Resounding Sound: The City at Dawn
Season 1, Episode 1
Air date
4 January 2010
Written by
Hiroyuki Yoshino
Storyboard by
Mamoru Kanbe
Directed by
Mamoru Kanbe
Animation Director
Toshifumi Akai
Episode guide
Japanese name
響ク音・払暁ノ街
Previous
----
Next
初陣・椅子ノ話
A young girl named Kanata Sorami joins the army with the hope of learning to become a good bugler. She is assigned to a place called Seize, which is currently holding a festival where people splash each other with water. She is found by her superior, Rio Kazumiya, who gives her a bath and tells her about the legend of the Fire Maidens. While looking at a bell owned by Rio's father, an owl steals it, forcing Rio to stop Kanata falling off the balcony trying to get it. As Rio participates in the festival, Kanata decides to search for the bell. She finds it hanging off a ledge, but when she goes to get it she falls into the lake, where she sees the golden skeleton of a winged creature. Stranded at the bottom of a canyon, she plays her bugle where she is responded to by Rio on her trumpet. She takes her to the Time Telling Fortress and plays the trumpet as the sun rises, introducing herself as Kanata's bugling teacher.
Referbacks
Edit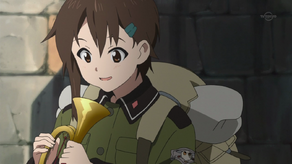 None. This is the first episode.
New Characters
Edit
Everybody is new because this is the first episode. See the Characters page.
Cultural References
Edit
Cute Japanese girls wearing German uniforms exploring a Japanese music school in a Spanish town full of French people in Switzerland, shooting South African owls with German rifles.
The splashing of red water might be a possible cross of Tomatina and Water-Splashing Festival in Xishuangbanna.
Unanswered Questions
Edit
Wth was that fossil?
Community content is available under
CC-BY-SA
unless otherwise noted.